COVID-19 Antibody Testing

US Drug Test Centers is able to provide the COVID-19 Antibody test nationwide, at over 2,500 locations. This test is for individuals who want to be tested or corporations that may want to test their employees who may have had symptoms of COVID-19 that have since resolved. These laboratory test results will tell you if someone has antibodies to the virus and will identify individuals who have been exposed to SARS-COV-2 (COVID-19). These results are helpful in identifying those who have already been exposed versus those who are still at risk. Results of the antibody testing can also indicate who may qualify for donating blood that can create convalescent plasma which is being investigated as a treatment for people with severe COVID-19 illness.
You can simply order a COVID-19 antibody blood test through our website or by calling our office. Once your order has been placed you will receive a laboratory form that you can take into the collection site, have your blood drawn and your results will be emailed to you. All results are simple to interpret and will explain if you have the antibodies.
For employers: US Drug Test Centers offers the COVID-19 antibody testing services designed to support employer return to work strategies. The purpose of this test is to check to see if anyone on your team has been exposed to the SARS-CoV-2 virus, the virus that causes COVID-19. Employees with positive antibody results should consider testing for active COVID-19 infection via nasopharyngeal swab prior to returning to work. Employees should closely monitor for any symptoms of COVID-19 and should contact their doctor or healthcare provider if symptoms do develop.
**This test has been authorized by the Food and Drug Administration under an Emergency Use Authorization. Note: antibody testing should not be used as the sole basis to diagnose or exclude infection.
Commonly asked questions:
What is the COVID-19 Antibody Test?
This blood test measures the amount of IgG antibodies to SARS-CoV-2, the virus that causes COVID-19, that is present in someone's blood. The detection of antibodies identifies patients who have been exposed to the coronavirus. This IgG antibody is most accurately detectable at least 14 days after an exposure. The antibody test does not detect active disease. It is still unknown whether having the IgG antibody to SARS-CoV-2 provides immunity.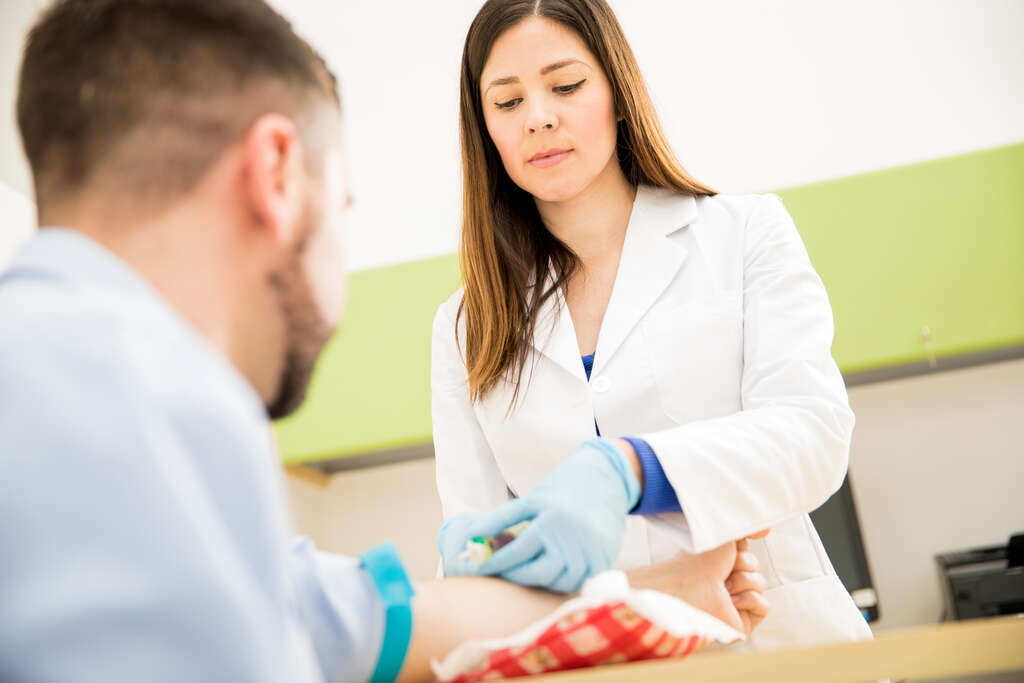 How is the test collected?
The test is collected by a simple blood test. There is no special preparation needed and fasting is not required.
What does it mean if you have a positive result?
If you have a positive test result, it indicates that you have been exposed to SARS-CoV-2, the virus that causes COVID-19. There is not enough evidence currently to suggest that people who have a positive result are protected against future COVID-19 infection. Results do not signify that you can transmit the virus to others. There is also a small possibility of false-positive results in those who have developed antibodies to other coronaviruses from a previous exposure/infection.
What does it mean if you have a negative result?
A negative test result indicates that you may not have been exposed to SARS-CoV-2 due to the lack of antibodies in your sample. However, a false-negative result may occur if you test too soon and your body has not had enough time to produce antibodies to the SARS-CoV-2 virus. If you are currently asymptomatic but have had a known exposure, you should consider retesting in 1-2 weeks.