There are many advantages to having a drug-free workplace policy program in place for your employees. Many companies that don't already have drug testing policies in place are now looking to move to randomly drug testing employees because there are so many benefits to doing so. US Drug Test Centers can help you figure out what you need for your company in order to have a compliant, drug-free workplace.
What can a drug-free workplace program do for you? These are just some of the benefits below.
It can help you avoid any legal liability.
It ensures that your employees are drug-free. If your employees know that there is a program in place, it may deter them from taking drugs if they know it can impact their employment.
It helps you have more productive employees. Employees who are drug-free are more aware and focused on the task that they are performing.
It can reduce work absence and turnover rates. Employees who may be doing drugs may miss work and not be reliable.
It can reduce employee theft, workplace violence, and workplace accidents. If someone is high on drugs in the workplace, they are prone to possibly causing a disturbance, whether that's through a workplace accident or through action against other employees.
It can reduce the cost of workers compensation claims. If a worker does get hurt on the job, the employer is responsible for the worker's compensation costs. When an employee is under the influence, they are more likely to possibly have a workplace accident that would require workers compensation.
Not sure how to exactly go about implementing a drug-free workplace policy? We can help you with that too. At US Drug Test Centers, we can help you put in place your five-step drug-free workplace program. The main five components are:
A written policy
Supervisor training
Employee education
Drug and alcohol testing
Employee assistance program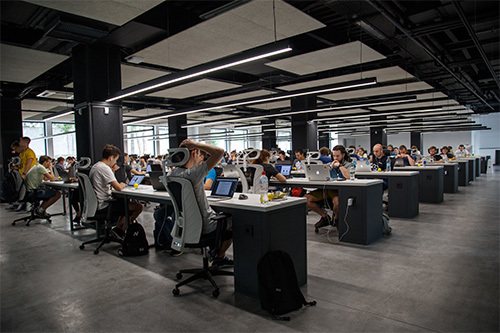 All of our drug-free workplace programs have been designed to be in compliance with federal and state laws and will help reduce the liability that can come from a drug- or alcohol-fueled incident.
Having a drug-free workplace policy not only keeps your company and entire team safe. Call US Drug Test Centers today at 866-566-0261 to find out how you can have your drug-free workplace program created. We will walk you through all of the necessary steps and make sure you have everything in place to maintain a safe and efficient work environment. With more than 20,000 locations around the United States, we're never more than a few miles away.