There are a lot of professions where drug testing is mandatory. Truckers, pilots, and train conductors often have to endure long, difficult hours on the job that test their psyches and sobriety. While these are all difficult jobs, being a doctor is one of the most stressful and potentially dangerous professions in the world. The burn-out rate for physicians is high, and they also have easy access to pharmaceuticals, which makes them vulnerable to addiction. Yet surprisingly enough, drug testing for doctors isn't mandatory, and many feel the time has come where this must change.
If truckers, train conductors, and pilots aren't operating sober, they can put many people's lives at stake. If a doctor isn't sober, there is also great potential for a patient to be harmed or killed. Education and prevention are key.
Drug Abuse in the Medical Field
Our society has a mental picture of the stereotypical drug addict, and it's not a medical professional. Shockingly, drug abuse in this field is more common than you think.
There are several triggers. One factor that can lead to doctors becoming addicted is job burnout, which reportedly affects nearly half of the physicians in the United States. As a report in Forbes explains, doctors often work roughly 10 more hours per week than other U.S. workers and are nearly twice as likely to be unhappy with their work-life balance. Stress and emotional and physical pain are two more big culprits, according to Lakeview Health.
One frightening statistic, according to a report on Fierce Healthcare, is that more than 100,000 doctors, nurses, medical technicians, and medical aides could be abusing drugs and suffering from addiction in America. Another study from a researcher at the University of Florida's Center for Addiction Research and education found that 38 out of 55 doctors (69%) were abusing prescription drugs.
In addition, 300 to 400 commit suicide each year.
Medical professionals are here to help us, and they often do; but because of the stress of their jobs, many of them are seeking a way to cope.
Is Drug Testing Doctors Coming in the Near Future?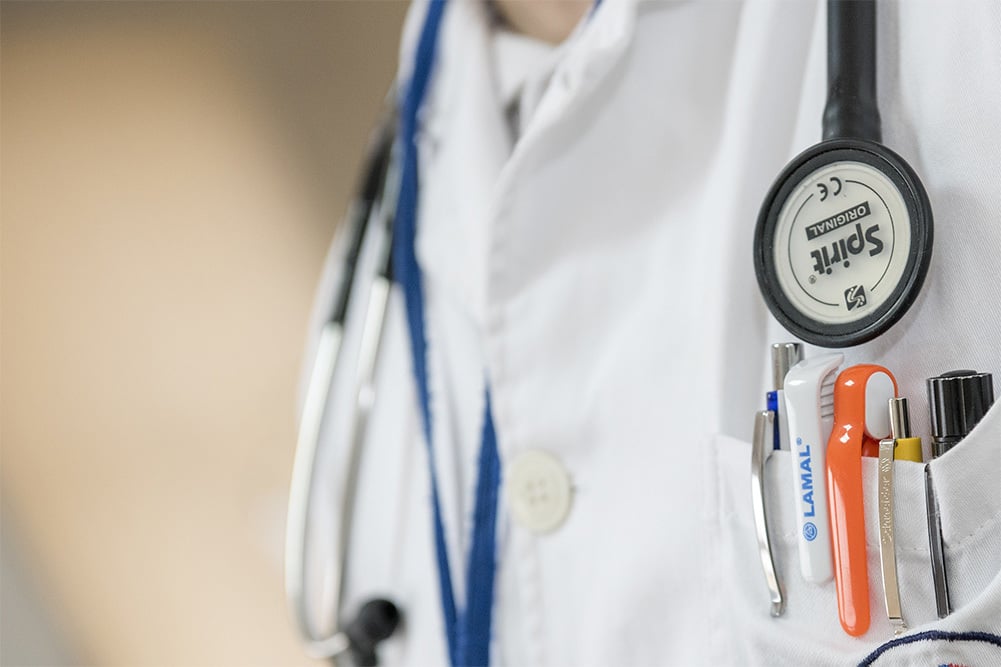 The discussion of whether or not medical professionals should be required to take random drug and alcohol tests is nothing new. Back in 2008, for instance, Massachusetts General Hospital and the Cleveland clinic started drug testing anesthesiologists specifically, because the rate of drug abuse in that discipline was so high.
While a doctor can be tested if his superiors suspect he has a drug problem, addiction can be a very shrewd devil that isn't obvious to the naked eye. An anesthesiologist who spoke to Medscape said four of his co-workers had died of overdoses, and he strongly urged the medical profession to randomly test everyone, because the suspicious behavior was often dismissed as fatigue or stress. Plus, medical professionals — familiar with the signs of drug use and addiction — are better able to hide their symptoms.
On the other hand, a number of physicians interviewed by Medscape were strongly opposed to mandatory drug testing, saying it's an invasion of their privacy and their freedom — a common objection to workplace drug and alcohol screening, in general.
Clearly, the debate over mandatory drug testing for doctors will continue for some time. But even with many physicians resisting it, a mandatory trip to a collection site could be a good way to keep the medical profession in check and get doctors the help they need if they start to falter with alcohol and drugs. Mandatory drug testing could not only save a doctor's life, but it could also protect the lives of many patients across the country as well.
With more than 20,000 drug test center locations nationwide, online scheduling, and same-day service, US Drug Test Centers is your one-stop shop for all your testing needs. We can also help manage other aspects of your drug-free workplace, including:
Crafting your drug-free workplace policy.
Training your staff and designated employer representative (DER).
Reviewing and verifying all test results through a medical review officer (MRO).
If your business operates under the Department of Transportation, we'll make sure you're compliant with both the DOT and your own agency.
To learn more about US Drug Test Centers' drug-free workplace programs or individual and employee drug and alcohol testing, contact us or order a test online, or call +1-866-566-0261.