The ongoing pandemic has drastically changed everyone's personal and professional lives. And one of the most significant shifts people went through (and are still going through) is transitioning to the work-from-home setting.
According to CNBC's Workforce Wire, COVID-19 has greatly impacted people's mental health. This is driven by sudden changes in daily workflow, adding on to employees' anxiety, fears, isolation, and stress. As a result, alcohol and drug use has skyrocketed, with people using these substances as a way of coping.
For companies and employers, it's vital to ensure that your employees remain healthy amidst the current social climate so that your business continues to run efficiently.
Here are some actionable tips you can use to encourage members to make responsible decisions at home and to maintain a drug-free workplace while implementing WFH.
Keeping Employees Drug-Free While Working From Home
1. Have regular video meetings.
With the shift to the WFH setting, companies and employees are challenged by the lack of face-to-face interactions and access to information. That's why it's helpful to find ways to keep people accountable, aligned, and connected.
One way to do this is to schedule regular meetings and check-ins with your staff. Consider this a time and place where they can consult with you and ensure that their concerns are heard. This is also an opportunity for you to keep everyone on the same page, working toward the same goals.
Harvard Business Review notes that video calls, in particular, help reduce the sense of isolation among teams. "Email alone is insufficient. Remote workers benefit from having a 'richer' technology, such as video conferencing, that gives participants many of the visual cues that they would have if they were face-to-face."
It's also vital to encourage everyone to be more flexible and understanding of possible interruptions (e.g. a toddler showing up during the video call). When employees feel respected and valued despite their challenges, they will keep working hard.
2. Acknowledge employees' "wins."
Because of the lack of social interactions, employees tend to feel demotivated or undervalued, especially when it seems like their efforts are going unnoticed. This is bad for morale, to say the least.
That's why in your video meetings, it helps if you recognize some of the great work done in the past week or so. It's vital to acknowledge employees' achievements – to the group – just as you would if you were in the office.
Regardless of how big or small the win is, appreciating employees' work will boost their confidence and morale, knowing that their hard work is valued and is making an impact on the business.
3. Be diligent with deadlines.
While working from home might be more casual and relaxed, remember that people are still being paid to do a job. It's best to set clear deadlines and stick to them. As leaders, make sure each member is clear on their individual role and hold them liable for their deliverables.
It's beneficial to use project management tools like Trello or Monday to help remote teams collaborate easily and keep track of their individual tasks. Set up instant messaging tools like Slack, Microsoft Teams, or Google Chat for more urgent and time-sensitive communication.
LinkedIn adds that remote working needs transparency. "Emphasize the importance of providing regular updates to keep everyone in the loop. This also holds people accountable for their work."
4. Create a solid support system.
Your company's drug-free workplace policy should not only prohibit drugs, but should also be sympathetic and concerned in helping employees who are struggling with drug use.
Establish a support system, like an Employee Assistance Program, that can help staff members or managers who are experiencing drug-related issues, stress, and other personal struggles. It should also provide relevant education on alcohol and drug abuse, and its potential impact on one's life and long-term health.
Other services could include one-on-one counseling, fitness programs, and wellness resources for individuals who are trying to prevent or address substance issues. Also, provide employees with relevant information on the risks of drug use to each person's safety, the people at home, and the business.
When employees feel supported through their personal and professional struggles, they're more likely to perform well when working from home.
5. Organize remote social interactions.
Working from home can make people feel lonely and isolated. Plus, people need an outlet to release their stress and tension. A helpful way to address these is to provide opportunities for virtual get-togethers.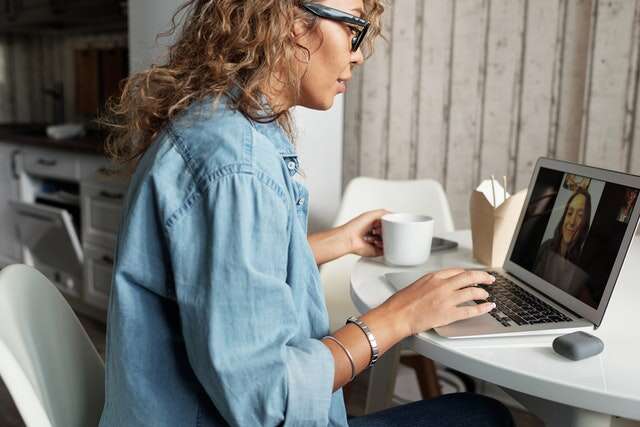 Schedule some time where employees can interact online with informal conversations and non-work discussions. Consider starting off your team video calls with a few minutes of catching up with one another.
You can even get creative and organize virtual events like pizza nights, movie viewing parties, and trivia or game nights. The goal here is to help your employees feel less isolated, promote a sense of belonging, and remind everyone that they're never alone.
6. Keep your policies updated and transparent.
Your drug-free workplace policies should be reviewed and updated to address the changes in the work settings. More importantly, it should be effectively communicated to all members. All policies should be extremely clear to employees, including consequences for non-compliance.
It's also essential to prepare for how incidents will be managed. The National Review notes, "If a manager or supervisor suspects that an employee is using marijuana or other drugs while performing work for the company, the supervisor should be instructed to reiterate the company's policies."
EHS Today agrees, saying, "It is the employer's responsibility to evaluate the circumstances of the employee's refusal to test and determine whether or not the employee's actions should be considered a refusal."
Employers should also carefully consider their chosen testing centers and procedures when they require drug tests for employees. They need to ensure proper COVID-19 safety protocols are observed, so as not to put members at greater risk.
As employers, it's essential that you take proactive steps to ensure that your staff members are well supported – especially during these challenging times and while they're working from their own homes. Doing so can make a real impact in maintaining a drug-free workplace and in keeping your employees as healthy as possible.
Need guidance with your drug and alcohol policies or testing needs? US Drug Test Centers can help. Contact us today to learn more or order a test online.